PERSONALITY ASSESSMENT FOR START-UP TEAMS
Founder Conflicts
Founder conflicts are one of the most common reasons for failing start-ups. Many co-founders start out as friends but yet haven't experienced working together. The Enneagram personality system brings clarity to communication and conflict management:
Understand how motivation and fear drive decision making of each Type differently
Determine the best role for founders and team members
Clarify what each Type defines as "success"
Effective Leadership
A well-tuned team is most critical for a start-up's success and this goes beyond professional experiences and backgrounds. The composition of personality types determines how well the team functions as a whole and how it needs to be led.
Understand how people of different Types will interact and communicate
Create ideal work environments to support the Types of the team
Modify roles and job descriptions to fit Type strengths and potentials
Informed Hiring
In small teams everyone feels a change in dynamics much stronger than in large corporations. Especially, the first 20 or so hires need to work well together to ensure focus on the company goals rather than disagreements and challenges.
Assess the current team Type composition 
Hire Types which will balance and compliment the current team
Hire Types which are strong in the roles needed
Investors Relations
Once an investor comes on board the dynamic always shifts. Suddenly, the start-up has to report to a new authority, manage expectations and align goals. Conflicts between  founders and investors are amongst the most common reasons for failure.
Perfect your communication with investors 
Understand investors' perspective and preemptively strategize how to interact
Learn techniques to manage investor/founder challenges
INVESTORS' INTERESTS
Most early stage investors strongly focus on evaluating the start-up team when considering an investment. They know that their success will depend on these relationships. In addition to resume and references, the Enneagram personality typing system can offer a structured approach for this soft-skill evaluation process.
Predict team dynamics in future high stress situations
Better understand team composition, dynamics + balance
Improve the working relationship between investors + founders
Make smarter decisions about which teams you want to invest in
ENNEAGRAM BACKGROUND
The Enneagram is a powerful tool for personal and collective transformation. Stemming from the Greek words ennea (nine) and grammos (a written symbol), the nine-pointed Enneagram symbol represents nine distinct strategies for relating to the self, others and the world.
Each Enneagram type has a different pattern of thinking, feeling and acting that arises from a deeper inner motivation or worldview.
The Enneagram is often best taught, learned, and experienced live and in-person. Witnessing individual and group interactions while carefully attending to one's inner experience is paramount in fully realizing the benefits of the Enneagram. This tool is relational, expansive, and easily integrated into life via a narrative tradition of learning and teaching.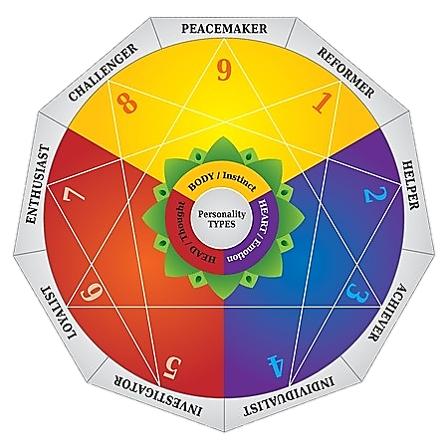 BENEFITS OF ENNEAGRAM FOR BUSINESS
Personality Assessment
What motivates you? What limits you? What will drive you to achieve your goals? Personality assessment is the first step in reaching your potential.
Effective Leadership
Know your team's types and you will (1) have a deep understanding of their motivations, fears, strengths and weaknesses, (2) be able to lead more effectively, and (3) assign everyone roles in which they will thrive.
Constructive Conflict
Optimize your interactions – Anticipate conflicts – Solve them before they arise – Criticize constructively. This will improve your internal as well as external communication with customers, partners and investors.
Smart Hiring
A new hire needs to bring more than just experience and expertise – he/she needs to be a great fit for the existing team dynamic. Understand what types will best serve your team's next phase of growth. 
COMBINING PSYCHOLOGY AND START-UP EXPERIENCE
–  4+ yrs team coaching
– 15+ yrs in health/wellness
– Counseling Psychology M.S.
– CEO of 300ppl logistics co.
– Built corporate venture group
– Former NASA Project Manager
Combining eastern and western methods founded in psychotherapy, functional fitness, holistic nutrition, consciousness, and mindfulness Crystal brings out the best in you and your start-up. These methods stem from Crystal's Masters in Counseling Psychology from the Institute of Transpersonal Psychology, as well as 15+ years experience as a certified medical exercise specialist and holistic nutrition specialist. 
Crystal is able to translate the intangible but deep value of these health and psychology tools to the rational, hard-edge business and start-up world, so you can apply them inside your own organization or externally at the next sales meeting, or meeting with investors. 
A former military officer, NASA scientist, founder of a non-profit organization, for-profit entrepreneur, and mid-size company CEO, Florian has worked with a variety of teams in the government, business, university and start-up world. Depending on these work environment, teams have very different dynamics, strategies, challenges and goals.
Thanks to working with Crystal, Florian has been able to apply these health and psychology tools in his various work environments and has experienced the numerous benefits. Florian enjoys connecting about new ventures and convincing others about the importance of using such tools in today's business world.